High School Lap Swim Information and FAQ
We continue to work on logistics, but here is what we have worked through so far:
Please keep in mind that this is new to the Y and the HS. We have been working on the concept for the last year, however, we can expect there to be times where we need to adjust and develop new processes. Please share feedback with the Y
Why are we doing this? The current YMCA lap pool only has 4 narrow lanes. The new High School Aquatic Center is a state of the art facility, and the Y will be able to over double our capacity- for both Y members and the community
Age restrictions are the same as the Y facility

Begian Tuesday, September 5th
Times available: Access doors open (with proxy card) at 5:45am and lap swim is from 6am-8am, Monday-Friday 
Fees- Y members, no charge and is included in membership
Fees- non-members (community members)- YOUTH: 

$6 per day / ADULT: $10 per day (or 5 passes for $40). 

These must first be purchased in person at the Y and a background check completed (Raptor). A check-in code will be provided.

On sale beginning Thursday, August 31

Fees- nationwide (Reciprocity) members, no charge; however, members must check in at the YMCA to receive a code and check in.
Aquatic Center Access- users (members and community members) who enter the aquatic center prior to 7:00 will need a 'proxy' card. During the first week of operation, these will be assigned on site at the pool. After Friday, September 8th, they are able to be assigned at the YMCA front desk.
Check-in- Members enter their membership code /non-members enter the code they received at purchase. There will be a small kiosk at the pool entry

YMCA will not offer lap swim at the Y facility during this time

Users can park at the Y, or in the HS visitor parking spots east of the main entry (see image below)

All users enter through the Aquatic Facility entrance at the high school

Users will be able to use the locker rooms/showers at the aquatic center

Locker space is very limited. There will be cubbies on the pool deck for minimal personal belongings. We encourage users to not bring valuables with them

The pool will be cleared at 8am and users will need to be out of the locker room areas by 8:30am

The Lifeguard will have a communication device so that they are able to reach the Y front desk if necessary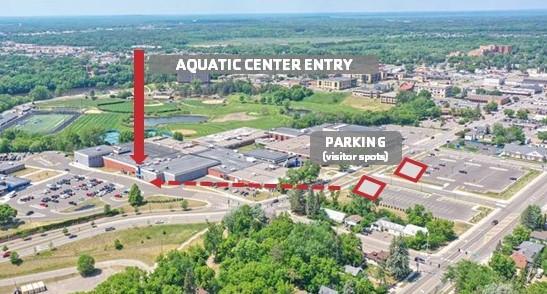 We plan on adding hours in the future as we learn from this starting point and are able to add staffing capacity.
Pool Information
8 lanes

25 yards

Temp: lap pool is approximately 81-82 degrees (the diving well is warmer)
Depth: 3' - 7'

handicap ramp entry