YMCA Camp Vanasek - Summer Day Camp
Serving Children Entering Kindergarten - 7th Grade
Our 2023 Camp Enrollment will begin on Febuary 1st, 2023.
At YMCA Camp Vanasek, campers will have the opportunity to develop new relationships, gain independence, learn new skills, and grow through a safe, accepting, and nature based environment. Each week will be a different adventure. Youth learn to be honest and care, to respect and to be responsible for themselves and the environment. These are the values that make the YMCA Camp Vanasek different and extraordinary. Join us for the adventure – create a lifetime of memories!
_____________________________________________________________________________________
















2023 Enrollment
Enrollment for the 2023 camp season will open on February 1, 2023 at midnight. We will be doing a stagered enrollment for the 2023 season (this is new). 
Full time Campers (5 days a week & 13 weeks of summer) will open on Feb 1st.
4 day Campers (4 days a week & 13 weeks of summer) will open on Feb 5th.
If enrollment is not full by March 1st, we will than open to partical summer use Campers (campers not attending all 13 weeks of camp) .
Our 2022 season filled for enrollment within 24hrs, so please mark this dates on your calander. 
Please note to enroll your child in camp and to attend camp they will need a active Brainerd YMCA Membership.
Camp Schedule
7:00 AM Morning Drop Off
8:30 AM Breakfast
9:00 AM Activity 1
10:00 AM Activity 2
11:00 AM Down Time
12:00 PM Lunch
1:00 PM Swim Time
3:00 PM  Activity 3
4:00 PM Snack
5:30 PM Camp Closes
Camp Activities
Swimming
Archery
Biking
Canoeing
Nerf Wars
Paddle Boarding
Arts & Crafts
Fire Cooking
Team Games
STEM
Nature Hikes
Fishing
Camp Address, Hours of Operation, Holiday Closures, & Early Release Days
Camp Address: 14307 Oakwood Dr N, Baxter, MN 56425
Camp Season Starts: June 5th, 2023        Camp Season Ends: September 1st, 2023
Hours of Operation: Monday-Friday 7:00 AM -- 5:30 PM
Closed on: Monday July 3rd, & Tuesday July 4th, and July 5th, 2023.
Early Release Days (2:00 PM pickup): TBD
Daily Rate of $42 per day. (Includes AM Snack, Lunch, and PM Snack) 
Financial Assistance & Scholarships
Financial Assistance & Scholarships are available through the Brainerd YMCA. To apply for assistance please fillout the Financial Assistance Application and return to Jennifer Wilson in person at the Brainerd YMCA or by email.  Please contact Jennifer Wilson with any Financial Assistance & Scholarships questions. 
The YMCA provided over $40,000 in Financial Assistance & Scholarships in the 2021 Camp Season. This was made possible by the Brainerd YMCA Annual Campaign Donors and the Brainerd & Baxter Lion's Club. 
Membership
To enroll in camp your child will first need to be a member of the YMCA either through a Family Membership or a Youth Membership. You can complete this process online below. 
Summer Menu: Breakfast & Lunch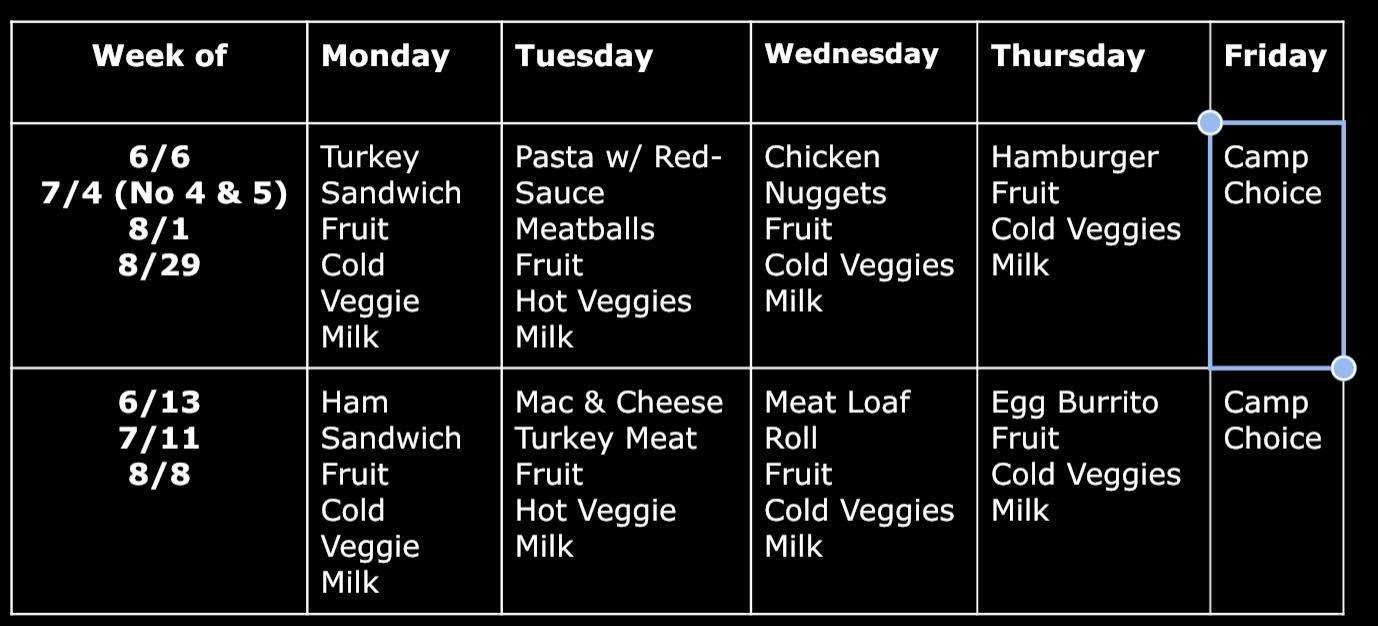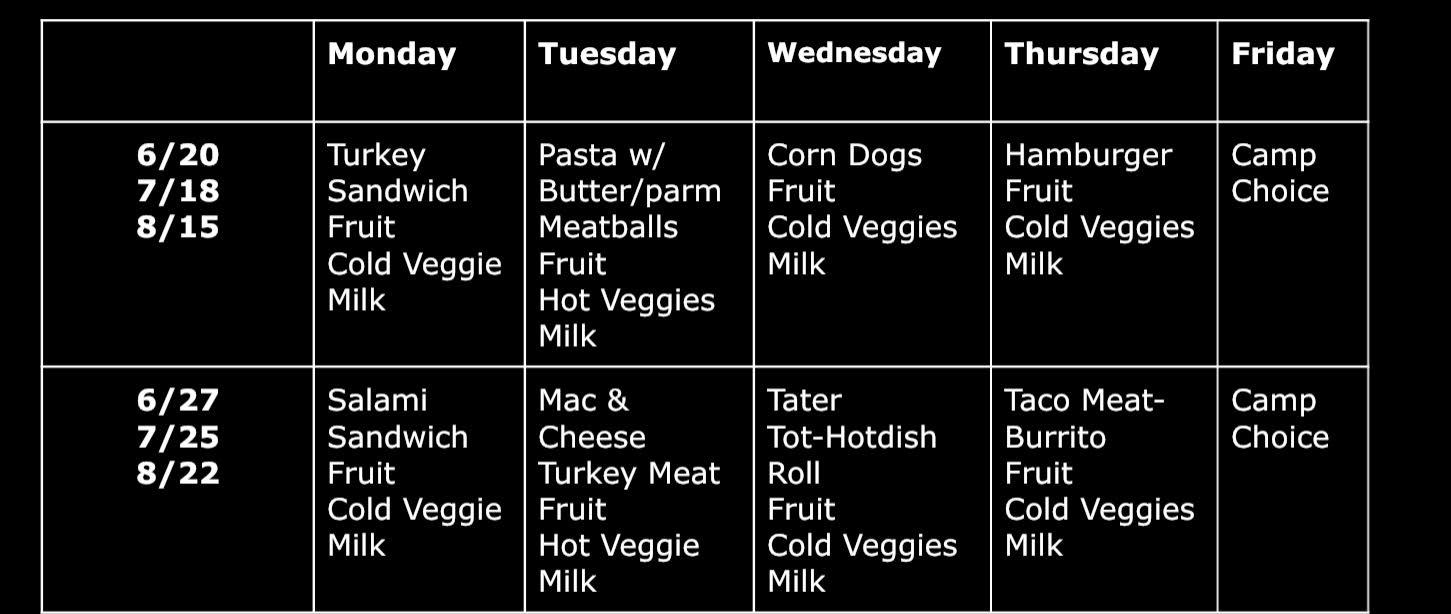 The 2023 Parent Handbook is sent directly to enrolled families.
What is Enrollment vs. Daily Registration?
Enrollment
To attend camp you have to complete the enrollment for each camper attending camp. The enrollment consists of the Health Forms, Emergency Contacts, and Waivers. There are limited spots, so we do close enrollment when we have met our seasons capacity of Campers. Enrollment opens Feb1, 2023. Your camper will need to be a member of the YMCA either through a youth or family membership to enroll and attend camp. You can complete the membership application online. Membership Sign-Up
Daily Registration
Daily registration are the days your camper will be physically attending camp. You have to have been on the camp enrollment to complete the daily registrations. Daily Registrations open for June on May 1, July on June 1, and August on July 1.