SMILES ON THE 'SIPPI
Smiles for Jake is coming to the new Brainerd Mississippi Landing Trailhead park in 2023!
Let's get outside, together. MORE INFORMATION COMING IN EARLY 2023.
FREE EVENT INFORMATION
Join us for a day of fun and activities for the whole family.
UPRIVER PADDLING RACE INFORMATION- 4.6 miles (upriver 2.3 miles then back to start/finish)
FEES- $TBD per entry CLICK HERE to register
Race start times
TBD am- Kayak
TBD am- Canoe
TBD am- SUP (stand up paddleboards)
Pre-race meeting/instructions at TBD am
Mass start/launch by category from Mississippi Landing Trailhead park
Course- paddle upriver from Kiwanis Park to Evergreen landing (2.1 miles) then around the mid-point buoy and return to the start/finish. 
Top 3 finishers in each category receive an award / all racers receive a race t-shirt
*course will be patrolled by Crow Wing County Sheriff watercraft and Lifeguards stationed at start and mid-point of the course.
CROW WING COUNTY HISTORICAL SOCIETY- HISTORY ON THE 'SIPPI TOUR 
Did you know the only way to cross the river was once by ferry? Learn more about this and other points of interest on the river from 10:30am-12:00pm. The Crow Wing County Historical Society will provide historical interpreters at 3 locations on the river between Kiwanis Park and Evergreen Landing to teach you more about life on the Mississippi River in early Brainerd. A limited number of canoes and kayaks will be available to check out at Kiwanis Park or you may bring your own!
NOT PADDLING? You can explore many other historic sites on foot! A printed tour is available at registration or you may use the interactive map (link provided at the event).
Schedule- Smiles on the 'sippi (Free) Rotary Park
9:00 am- Morning Mississippi Yoga
10:00 am-10:30 am- Ventriloquist Show
10:30 am – 11:00 am- Magic Show
10:00 am-1pm- Face Painters, Balloon Artist, Rock Painting, and a visit from Mickey & Minnie Mouse
10:30 am- 1pm- Live Music featuring Country Music band "Girls Night Out."
11:00 am-1:00 pm- Free lunch
A shuttle service will be provided frequently for traveling between Kiwanis or Rotary Park every 15 minutes.
Schedule- Upriver Race ($25 race entry fee) Kiwanis Park
8:00am- Boat drop-off
8:30am- Race briefing/information
9:00 am- Canoe Race begins
9:15 am- Kayak Race begins
9:30 am- Paddleboard Race begins
RULES
A YMCA waiver must be complete prior to participation. All YMCA behavior and code of conduct rules are applicable.

All boats must be registered in the state of Minnesota except watercraft currently registered in another state and not kept in Minnesota for more than 90 consecutive days, or a watercraft owned by a person from another state that does not require licensing of that type of watercraft and it is not within Minnesota for more than 90 consecutive days, or watercraft from a country other than the United States and not kept in Minnesota for more than 90 consecutive days. 

All racers must wear a properly fitted, wearable (Type I, II, III) U.S. Coast Guard approved personal flotation device (PFD) while on the water. Failure to wear a PFD at any time while on the water may result in disqualification. PFD's must be in serviceable condition.

The original craft must be paddled (human powered/non-motorized) from start to finish. 

Participants must wear their race number/bib with it visible to race officials and safety staff at all times.

Littering is not tolerated and participants caught littering will be disqualified with no refund and reported to authorities.

In the event of severe weather, the event will be cancelled with no refund. Participants are responsible for their own safety and should make decisions based upon their level of skill and ability in the conditions at the time of the race.
Upriver race start/finish and boat drop-off layout
Paddlers/Racers will be able to drive into drop-off loop at Kiwanis Park between 8am-8:30am. 
Enter from College Drive. To exit, re-enter College Drive (one way), circle around the roundabout then turn right to park at the event parking lot (High School Stadium parking lot). 
Walk to start/finish area crossing under College Drive as noted with the green arrows below.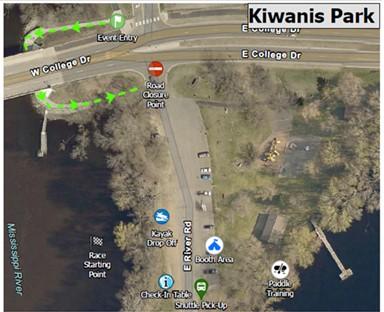 Schedule- CWC Historical Society River Paddle (Free) Kiwanis Park
10:30am-noon- Crow Wing County Historical Society will provide historical interpreters on the river to teach you more about life on the Mississippi in early Brainerd. There will be three locations on the river between Kiwanis Park and Evergreen Landing. Limited number of canoes and kayaks available for use at Kiwanis or bring your own! Not paddling? Other historic sites can be explored on foot. A printed tour will be available at registration or interactive map can be used